Dive, Swim or Just Relax on a Blue Cruise
People used to talk about the 'freedom of the open road'; the ability to go anywhere and do anything. Roads are getting increasingly busy everywhere so for genuine freedom and independence why not try the seas? The Turquoise Coast of Southern Turkey offers guaranteed warm seas from as early as Easter until the return of winter. The clear and crystal waters are perfect for swimming and diving, a sun tan is taken as read and with the flexibility of a charter, gullet or yacht, your time is your own.
There is a road that hugs the coast and winds below the mountains behind, starting west of Fethiye near Kalkan and continuing along to the next tourist town which has become a popular destination for holidaymakers and particularly those interested in diving. Kas has become one of the top diving venues in Turkey.
Kas
The ongoing journey from Kas to Olympos is stunning but it is worth spending a little time enjoying what Kas and the immediate vicinity has to offer first. Indeed there is the small Greek Island of Meis just offshore and immigration formalities are so simple that lunch in its small harbour and some duty free goods is a nice way to spend a few hours.
Kas was a small fishing village but the growth of tourism and traffic along this coastline has led to the construction of a much bigger facility offering berths to many more boats. It does not mean the town has lost its charm and there are friendly bars and restaurants hugging the old harbour.
There is plenty of local advice available on the things to see and do while experienced captains will know the things that have provided the most enjoyment to clients in the past. There are several sites for divers to visit and with the freedom of a charter there are no times restrictions.
The Highlights en route to Olympos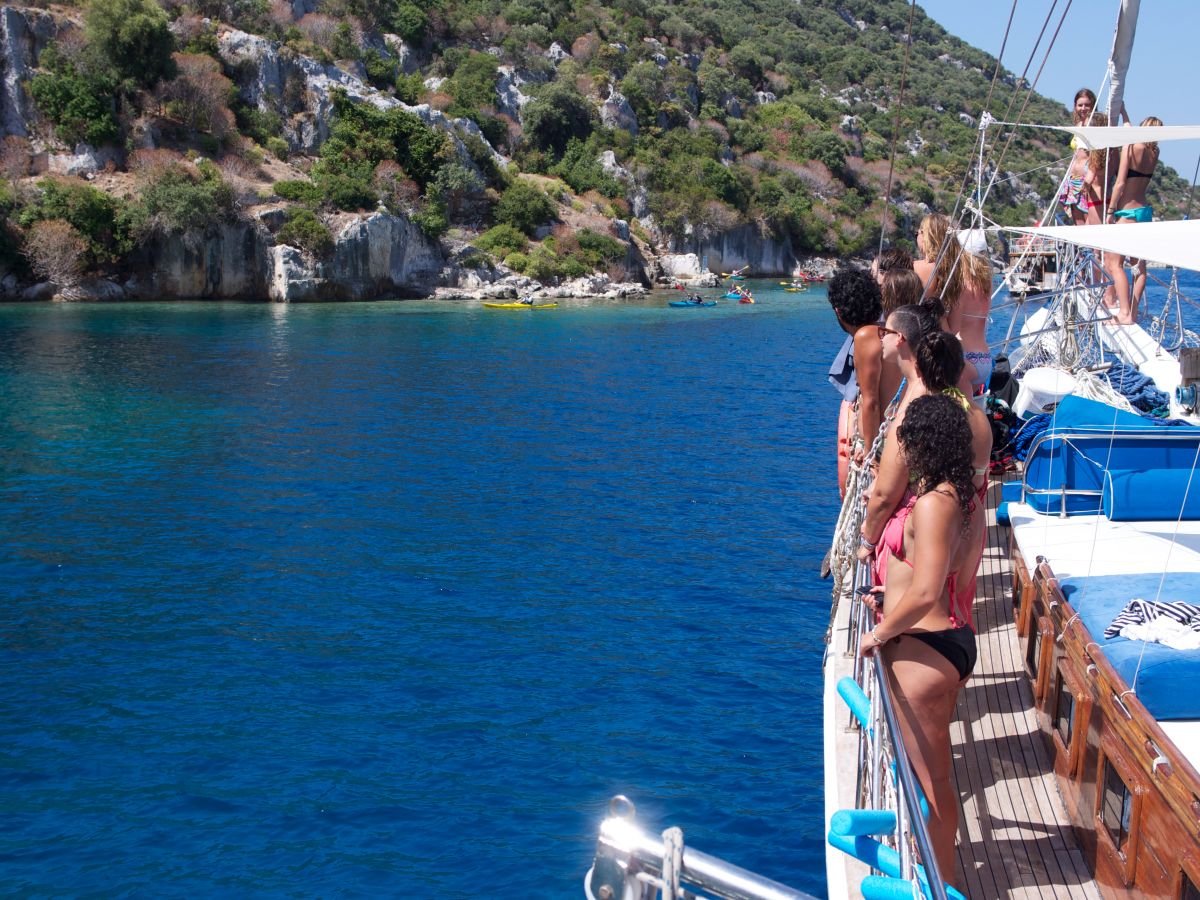 Heading east there is the sunken city of Kekova. It is forbidden to anchor above the City which dates back many centuries. It was destroyed by an earthquake in the 2nd Century, rebuilt by the Byzantines but finally abandoned because of its vulnerability to Arab attack. Not far away is Simena Castle which sits in a prominent position overlooking the sea. It was built by the Knights of Rhodes on the site of old Lycian foundations. It is fairly well preserved and those climbing to see it are rewarded with spectacular views out across the sea.
Demre is the modern day settlement where the ancient Lycian City of Myra was once situated. There is so much for those interested in history and culture to see it is certainly worth spending some time here and perhaps researching before the holiday to decide on priorities.
Olympos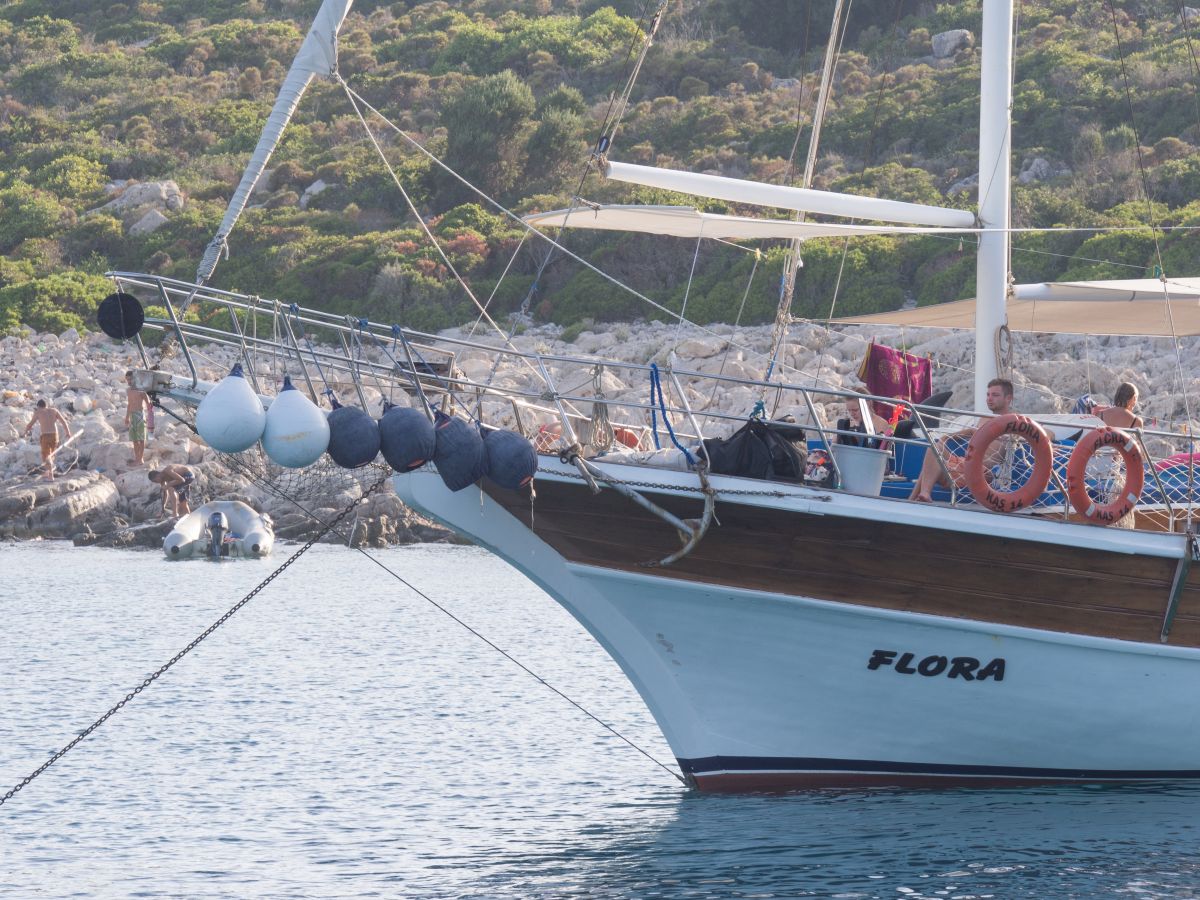 Heading further east there is Olympos, an ancient Lycian city which it thought to have been first settled in the 4th Century BC. It certainly had its own coins and it is believed that Julius Caeasr was in the Roman army that took the city in 78 BC. Tourists enjoy the place for more than just history however; it is a beautiful setting.
The coastline continues east with plenty more to see. The Kas Antalya Blue Cruise is comprehensive offering modern day holiday pleasures of sun, sea and sand but also the rich history and culture of this part of the world. It has played its role in many famous civilisations from Lycian through Persian, Greek, and Byzantine well before the more modern ages of Italian City States and Ottoman. Set sail on a real experience.
Cruising down this coastline is great fun. The local cuisine includes seasonal fruit and vegetables, herbs and olive oil, used to make mezes and lovely salads. The seas have red mullet, bass and bream that can be caught on a line and put on a BBQ for lunch or dinner. Lamb and chicken are popular main courses and Turkey's very sweet desserts are a good way to finish, perhaps with Turkish coffee. Turkey's wine is ever improving and when it comes to eating fish, the famous spirit, raki, is a regular accompaniment. Take to the seas and go with the flow for a memorable holiday.