Tag Archives:
Turkey
Looking at a guide book of Turkey you might be tricked into believing that your only option for accommodation is in an upmarket resort or seaside town however Turkey is also has many small villages and traditional towns which lie inland from the Aegean and Mediterranean sea and offer a slightly more cultural experience. If you plan to visit some of Turkey's many ancient ruins then one of your first choices may be between staying in Kusadasi, on the Aegean Sea, or in the mountain town of Selcuk, just 18 km inland.
Reasons to Stay in Kusadasi:
For Excellent Location…
Kusadasi lies on the southwestern shores of Turkey's Aegean sea, within an hours drive of Izmir's international airport and just a stone's throw from the Greek Island of Samos. This seaside resort has regular bus connections to sites and towns of interest along the coast including Bodrum, Fethiye, Pamukkale and Izmir and daily ferries to Samos. If you're interested making daytrips then Kusadasi has an abundance of sites in the area, you might want to hop on a Jeep Safari to the Dilek National Park or take a bus to the shopping outlets at Soke. Agencies offer guided Ephesus tours or excursions to Didyma and Pamukkale on a daily basis so there's no need to have your own transport if you choose stay in Kusadasi.
For the Beaches…
Kusadasi is one of the few coastal resorts to have a beach right in the centre of town, so if you choose to make this spend your vacation in this harbour you can be sure that it will only be a short stroll to white sand and transparent water. Aside from 'Ladies Beach' – don't be fooled by the name because it is open to both men and women – on the outskirts of town are 4 privately owned beach clubs. If being served cocktails as you lounge on a shaded sunbed is you style you can head to any one of these. Alternatively take a national park bus to Guzelcamli and relax on the town's more quiet and scenic beaches.
For the Nightlight…
Kusadasi is one of the top spots in Turkey for dining and nightlife, second only to the country's party capital, Bodrum which lies further south on the Aegean coast. Start your evening with a glass of wine in an elegant rooftop restaurant as you watch the sunset over the sea. When you're ready for dinner take advantage of the excellent Aegean cuisine, which will undoubtedly include fresh fish and sea foods. Then head to the Old Town to enjoy live music and quirky bars in the maze of streets before heading to the modern 'Bar Street' where you can party through the warm summer night until sunrise.
Reasons to Stay in Selcuk:
For a Little Ancient History…
Unlike its seaside neighbors Selcuk had retained much of its Ottoman architecture and examples of its Roman/Byzantine heritage. Just wondering about the town's old streets you're sure to notice the remaining pillars of an aqueduct which once supplied the town with clean water. Or you might notice the Byzantine fortress which sits upon a hill overlooking the town. Selcuk is also just 3 km from the 2nd largest city of the ancient world and UNESCO world heritage site of Ephesus. Walking through colossal theatre, well preserved library and marble pillar lined entrance way, far away from modern buildings and technologies, is sure to give you a feel for life over 2,000 years ago.
For Old Trains and Famous Caves…
While most of Selcuk's visitors have come to for Ephesus Tours and other sites such as the Temple of Artemis, House of the Virgin Mary, St. Johns Basilica and Isa Beya Mosque, the town is also the host of some uniquely interesting sites. Even in the centre of the Old Town there is some exploring to do as one of the country's first steam locomotives sits between the streets, waiting patiently as tourists and locals aboard for photos. Travelling further afield there is the Camlik Outdoor Museum and the mysterious Cave of the Seven Sleepers, where 7 young Christians hid from persecution and allegedly awoke from a deep slumber 180 years later.
For Family Guesthouses and Homemade Cuisine…
Much of the accommodation offered in Selcuk is in family run guesthouses, built into traditional Ottoman homes, each of which has its own story to tell and it's own host to tell it. You will probably find yourself dining on a delicious Turkish buffet breakfast of olives, cheeses, fruits, pastries and homemade jams and benefiting from the local knowledge of your host. Far from the modern chain hotels that you would find in coastal resort towns, Selcuk accommodation give visitors the opportunity to experience real Turkish hospitality, taste homemade Turkish dishes and maybe even learn a few words of the local language.
So Where to Base Yourself?
Whether you choose to base your holiday in stylish beach resort or a tranquil mountain town you're sure to find plenty to do, Selcuk and Kusadasi are actually close enough together that you can easily travel between the two. Stay in Selcuk and take a Ephesus to Samos day tour to visit the beach and Greek Island or check into a hotel in Kusadasi and take a day trip inland to enjoy the peace and tranquility of the village as well as the lively atmosphere and parties of a Turkish beach town.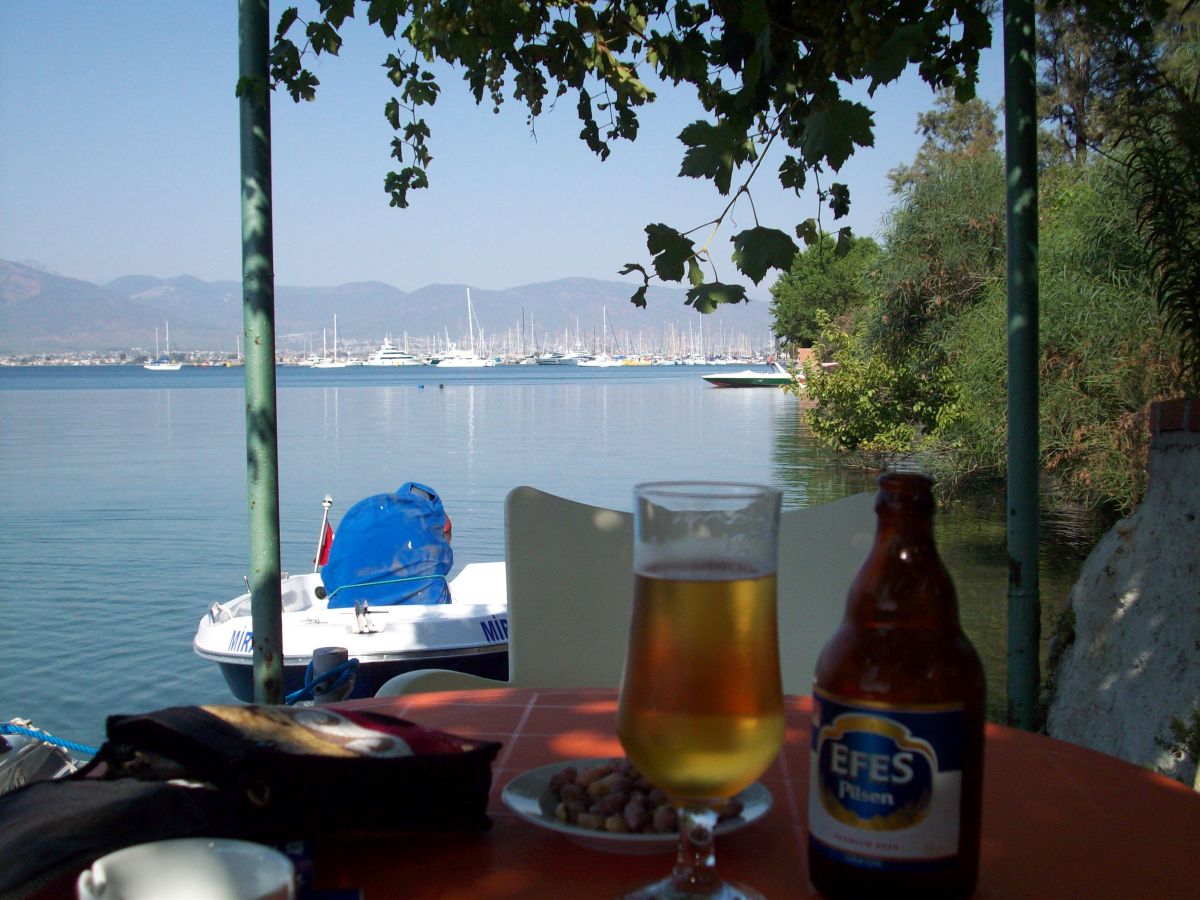 People used to talk about the 'freedom of the open road'; the ability to go anywhere and do anything. Roads are getting increasingly busy everywhere so for genuine freedom and independence why not try the seas? The Turquoise Coast of Southern Turkey offers guaranteed warm seas from as early as Easter until the return of winter. The clear and crystal waters are perfect for swimming and diving, a sun tan is taken as read and with the flexibility of a charter, gullet or yacht, your time is your own.
There is a road that hugs the coast and winds below the mountains behind, starting west of Fethiye near Kalkan and continuing along to the next tourist town which has become a popular destination for holidaymakers and particularly those interested in diving. Kas has become one of the top diving venues in Turkey.
Kas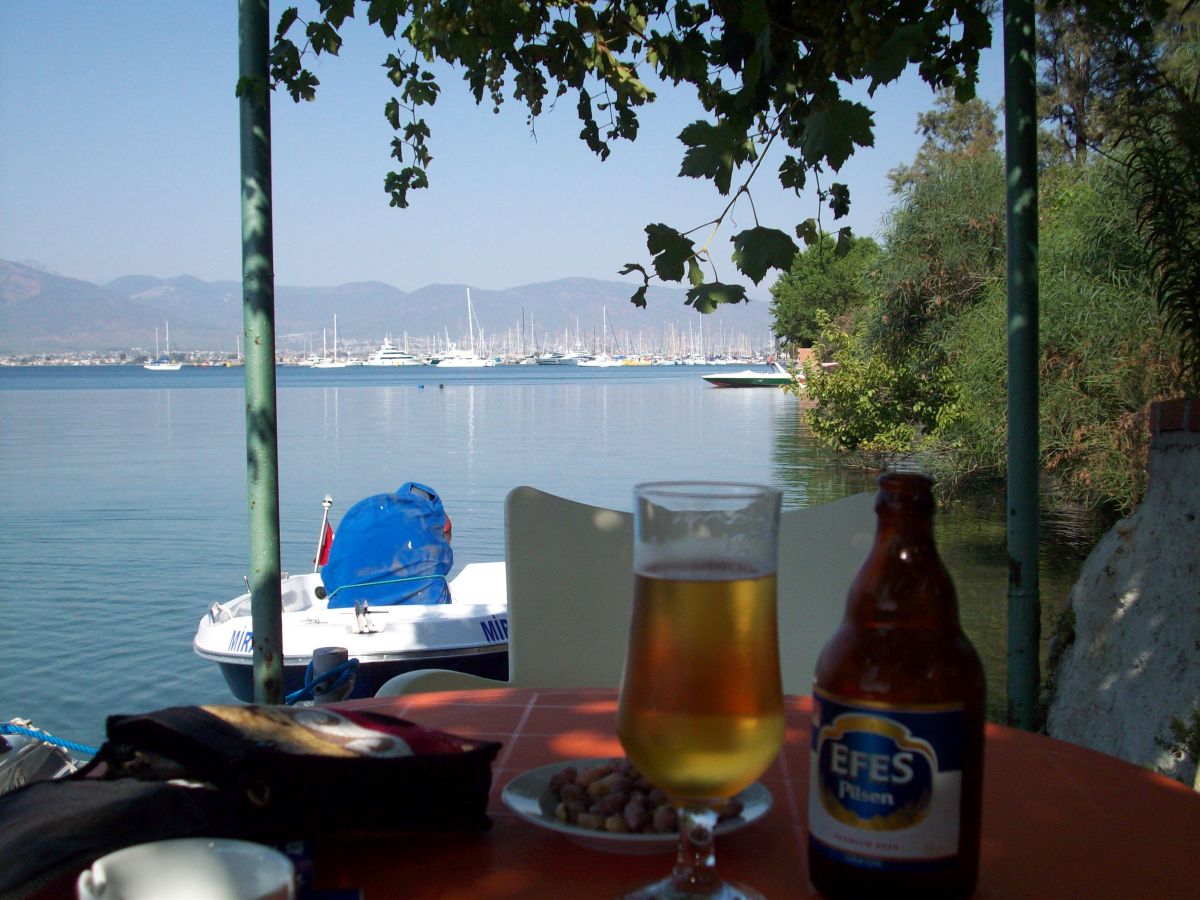 The ongoing journey from Kas to Olympos is stunning but it is worth spending a little time enjoying what Kas and the immediate vicinity has to offer first. Indeed there is the small Greek Island of Meis just offshore and immigration formalities are so simple that lunch in its small harbour and some duty free goods is a nice way to spend a few hours.
Kas was a small fishing village but the growth of tourism and traffic along this coastline has led to the construction of a much bigger facility offering berths to many more boats. It does not mean the town has lost its charm and there are friendly bars and restaurants hugging the old harbour.
There is plenty of local advice available on the things to see and do while experienced captains will know the things that have provided the most enjoyment to clients in the past. There are several sites for divers to visit and with the freedom of a charter there are no times restrictions.
The Highlights en route to Olympos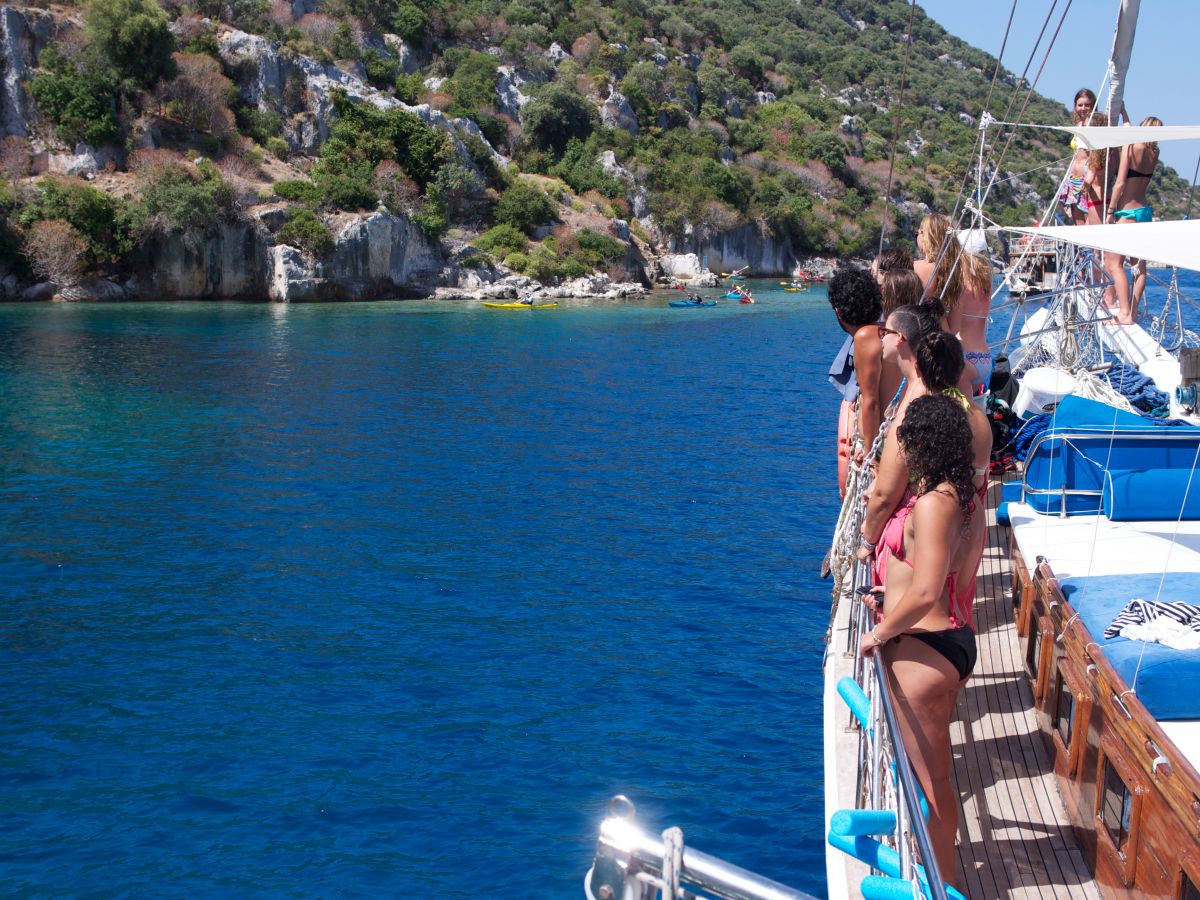 Heading east there is the sunken city of Kekova. It is forbidden to anchor above the City which dates back many centuries. It was destroyed by an earthquake in the 2nd Century, rebuilt by the Byzantines but finally abandoned because of its vulnerability to Arab attack. Not far away is Simena Castle which sits in a prominent position overlooking the sea. It was built by the Knights of Rhodes on the site of old Lycian foundations. It is fairly well preserved and those climbing to see it are rewarded with spectacular views out across the sea.
Demre is the modern day settlement where the ancient Lycian City of Myra was once situated. There is so much for those interested in history and culture to see it is certainly worth spending some time here and perhaps researching before the holiday to decide on priorities.
Olympos
Heading further east there is Olympos, an ancient Lycian city which it thought to have been first settled in the 4th Century BC. It certainly had its own coins and it is believed that Julius Caeasr was in the Roman army that took the city in 78 BC. Tourists enjoy the place for more than just history however; it is a beautiful setting.
The coastline continues east with plenty more to see. The Kas Antalya Blue Cruise is comprehensive offering modern day holiday pleasures of sun, sea and sand but also the rich history and culture of this part of the world. It has played its role in many famous civilisations from Lycian through Persian, Greek, and Byzantine well before the more modern ages of Italian City States and Ottoman. Set sail on a real experience.
Cruising down this coastline is great fun. The local cuisine includes seasonal fruit and vegetables, herbs and olive oil, used to make mezes and lovely salads. The seas have red mullet, bass and bream that can be caught on a line and put on a BBQ for lunch or dinner. Lamb and chicken are popular main courses and Turkey's very sweet desserts are a good way to finish, perhaps with Turkish coffee. Turkey's wine is ever improving and when it comes to eating fish, the famous spirit, raki, is a regular accompaniment. Take to the seas and go with the flow for a memorable holiday.